RECENT and ongoing  // HISTORY and older
modern music playing in various constellations
2009"Ensemble Experimente" Berlin/ Gerhard Scherer, 2011 "Ensemble Zeitfluss"  Graz "Steyrischer Herbst Festival", 2011 und 2013 "work in progress"Berlin,2011 "Kabinettoper", "Brückenfestival-Rostock", 2012 Ensemble Musikfabrik/OrchesterzentrumNRW Festival Ruhrtiennale 2013 "Sinfonietta für Neue Musik" Donaueschinger Musiktage, 2014 Klangspuren Schwaz, 2015  "Neuköllner Oper" Berlin "Golem" ( Antje Thierbach ob, Tobias Schwencke pi arr, and others), 2015 "Kammerphilharmonie Amadée" "Sommerliche Musiktage Soest", 2016 "8BrückenFestival Köln", 2018 Berlin Opera Lab & Berliner Staatsoper "Ti vedo, ti sento, mi perdo" (S. Sciarrino)
Other music: "Orchestre Europa, 2010 "ElectricCircus Sideshow" Berlin/London, 2010 "Balkanova" Berlin, 2014 "Bassmasse" "Moers-Festival"2014 "Twighlight struggle project" Renée Baker "Art Sound Festival Berlin", 2016 "Nano Festival Essen", 2017+2018 jazz@large Stuttgarter Theaterhaus
OLGAR : conceptimpro-trio
Christoph Scherbaum – guitar, Stefan Schäfer – projection(non-digital)/day-light projector, Daniela Petry – kontrabass.
Very minimal soundpainting improvisations audio/visual trio.
Christoph and me play together since we are teenagers, he and Stefan started working together while studying in Amsterdam. We follow a improv dramaturgy with the help of cards, but what happens as an iteraction between light and sound is always an additional layer. Some concert documentations for Olgar as a trio exists, please send me an email for further infos.
Die Letzte Derniere (2011-2013)
Improvisations on "abstract scores" in a group process on pieces of composers we like (such as K.Huber, R.Saunders, G.Scelsi, J.Cage, S.Scodanibbio, M.Feldman) in order to search for  the difference between improv and composition in a live context.
Nora Krahl – vcl, Sidney Corbett – git, Daniela Petry – kontrabass, Matthias Bauer/ Margarethe Meierhofer-Lischka – kontrabass, Jason Levis – dr/perc
LISTEN: Our Soundcloud

SEE: Our website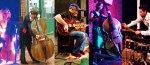 Spelunkenorchester (2010-2011)
Jazz/New music septett (str-quartett+jazzpianotrio) released on Konnex-rec.
Compositions by drummer Beat Freisen and violaplayer Johannes Dittmar
Violin: Rodrigo Bauzá(ARG), Marjolaine Locher(FR)
Piano: Dimitrij Golovanov(LT)
Cello: Hui-Chun Lin (TW)
Strings playing jazz, drummer composing fuges for stingtrio, everybody not discussing about what music to play but what coloures of all syles would fit.
SEE: Some photos from the bflat-gig in summer 2010.
Electric Circus Sideshow (2009-2012)
Electropop-band released on PerfectToy records
Vocals: Earl Zinger(UK),Bev Lee Harling(UK), Hugo Race(AUS)
Sax+vocals: Steve Moss
Prod.+git: Stefan Rogall(GER)
Drums: Achim Färber(GER),
the crazyness of pop in each track and in the whole thing itself: 4 singers, producer playing guitar and drummer of "die krupps"..madhouse is nothing compared to us on tour.
JAAD (2008-2010)
Newmusic/jazz/worldmusic  – stringquartett
Violin: Johanna Hernandez(VE), Anwar Alam(PK)
Cello: Aki Matusch(JP)
JAAD met in Bayreuth, did film music recordings, a swisstour and several gigs all over Germany, and cooked some crazy dishes together.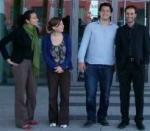 Berlin-Bahia (2004-2010)
Clubmusic+folk from brazil released on Berlin-Global/ Piranha-music.
Vocals: Samirah Al-Amrie(YE),Tita Lima(BR),Daniel Arruda(BR)
Git+laptop: Ben Aschenbach
Vibraphone: Oli Bott
Percussion: Fabiano Lima
Drums+electronics: André Seidel
Berlin-Bahia was my first producing experience, started acoustically and turned into a project with not only with lots of electronics on stage, but making me sitting in front of the computer nights and nights.
SEE: the musicvideo we did on the green hills of Berlin-Mitte.
desp (2004-2006)
Jazz/freeimpro band.
Sax/flute: Edith Steyer(GER)
Piano: Peer Neumann(SU/GER)
Drums: Tuomas Ojala(SU)
Compositions by edith and myself in beetween of free playing – great concept that always destroyed the plan for the compositions, let´s say … creatively!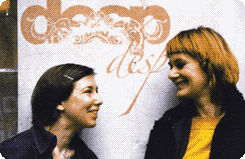 Orchestre Europa (2003-2005)
Folk from all over europe, released on Laika Rec.
Guitar: Frank Wuppinger, Andreas Wiersich
Akkordeon: Wolfgang Lell
Percussion: Roland Duckarm
Berliner JungendJazzOrchester (2000-2002)
Back then it was a perfect start to meet many inspired young musicians from the jazzworld.
Conductors: Alex v.Schlippenbach and Georg Ruby.
Bdellai (1997-1999)
Rock/hardcore music out of the garage.
Guitar: Roman Schulze, Florian Wursack
Drums: Gregor
I didn't know any note by name on my instrument, but still we rocked the clubs and some school-partys.